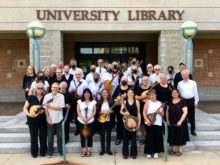 Marilynn, Fran, Ralph, Catherine, and Charlie are very happy to welcome Choro das 3 as our AMGuSS Guest Artists for 2023!
Read on for more details...
Pictured: Class of 2022 with Guest Artist Barry Mitterhof.
AMGuSS (The American Mandolin & Guitar Summer School) was founded in 1986
to promote the art of ensemble playing for the guitar and mandolin family instruments. Each session combines classical study with an exploration of folk and world music, in workshops, small chamber ensembles and an all-school plucked-string orchestra. From Baroque ornamentation to Brazilian choro, AMGuSS is dedicated to broadening the musical horizons of its students.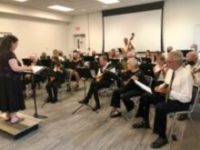 One of the first American summer schools for mandolin & guitar
, AMGuSS ran annually the last week in June every summer from 1986 until 2009, when it paused for a few years. It came roaring back in 2017 and reestablished its annual status. With small classes, accomplished faculty, and an emphasis on fun, AMGuSS continues on!
AMGuSS dates for 2023 are June 19 – 24.
We are delighted to return to the waterfront campus of Roger Williams University, Bristol, Rhode Island, for 2023. Check-in will be at 1:30 on June 19; check-out will be after lunch on June 24.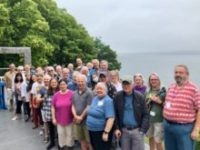 Discover the breadth and depth of music AMGuSS explores, and watch your level of musicianship soar!
"At
AMGuSS
we create
musical
experiences
together."
Play in the American Mandolin & Guitar Orchestra,
to develop your musicianship skills through rehearsals, sectionals, and a concert performance.
Music for 2022 included works by Corelli, Hasse, Pixinguinha, John Goodin, Catherine Hawkes, and Marilynn Mair!
Learn about decision-making in a small ensemble,
in groups of 4-7 students, created and coached daily by our faculty.
Ensemble choices for 2022 included: Baroque, Classical, Brazilian, Bluegrass, and Turkish music.
Broaden your musical horizons and knowledge,
through informative workshops, inspiring concerts, and informal jam sessions.
On-campus room & board options are available.
Single and double dormitory rooms are available in small suites, with two rooms sharing a bathroom and living area. See the
Registration Form
for details. Meals are served cafeteria-style in the nationally recognized campus dining facility, with food options for vegetarian, gluten-free and other diets. Meals run from dinner on June 19th through lunch on June 24th.
Registration is limited to 35 players.
There are full-tuition scholarships available if you between 18 and 30 years old! Apply by March 31. We do not have the facilities, oversight, or insurance to accept students under 18.
Tuition reductions are also available to anyone who needs one.
For more information, to register by mail, or to inquire about our scholarships or donating to our scholarship fund
Email: Fran Rivkin, Camp Coordinator, at

email hidden; JavaScript is required
Faculty for 2023:
Marilynn Mair - mandolin AMGuSS Director
Marilynn Mair has shown the world what the mandolin can achieve in the hands of a skillful artist. Internationally praised for her concerts and recordings, she has established classical mandolin in chamber music circles worldwide, earning the title, "First Lady of the Mandolin". Marilynn has performed at prestigious venues such as Carnegie Hall, the White House, and Lincoln Center, and internationally in Europe, Japan, China, and Brazil. She has released over two dozen highly acclaimed solo and ensemble CDs, and appeared on numerous compilations. Marilynn published her 224-page method book,
The Complete Mandolinist
, in 2008, and her bilingual choro method book for bandolim,
Brazilian Choro – A Method for Mandolin
written with Rio-based bandolimist and professor Paulo Sá, in 2010. Her third book,
The 100 – Techniques and Exercises for Mandolinists
, published in June 2017, chronicles Marilynn's journey on mandolin with a series of original exercises and ideas to improve practice technique and performance. Marilynn's 4th book, The Complete Mandolinist 2, includes over 100 pieces of music, presented in their musical context from the Renaissance to the present day. Marilynn's new book, including over 60 of her compositions, will be released in early 2023.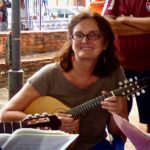 In order to devote more time to performance and composition, in 2017, Marilynn retired as a Professor of Music at Roger Williams University in Bristol, Rhode Island, where she taught courses in music and cultural history specializing in the Americas. She spends time each year in Rio de Janeiro, where she researches and performs Choro music in
rodas
throughout the city. As well as founding and directing AMGuSS, Marilynn also founded and directs Enigmatica-- a plucked-string chamber ensemble now in its 22nd year.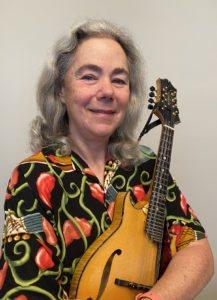 Fran Rivkin - mandolin AMGuSS Camp Coordinator
Fran's head has been in business and her heart has been in music (and sports) for a long time. At 15 years old, she became a life-long mandolin lover taking lessons with Jethro Burns (of Homer & Jethro), where they played tunes and talked about the Cubs. After co-founding and running an Internet company, Domania Inc., she was Associate VP for Road Scholar North America Programs. Recently, she's run a consulting firm to work with non-profit and small companies, including the Boston Red Sox. During this time, she's also been a continuing education student at the New England Conservatory to learn what it means to be a musician, and often sits in on bluegrass jams to figure out how to do it fast! Fran is a founding member of Enigmatica.
Guest Artist 2023
- Choro das 3
Choro das 3 will return to the USA in the summer of 2023 for their first visit since the Covid pandemic shut down most international touring. Choro das 3 is a family band from Brazil composed of three sisters: Corina (flutes), Lia (7-string acoustic guitar) and Elisa (mandolin, clarinet, banjo and piano). They play Brazilian instrumental music, and their main style is Choro music, an instrumental music genre that emerged in Brazil on the 19th century.
The band has performed in concerts and workshops all over Brazil, USA, Mexico, Canada, Portugal, Spain, France and Italy. They have released several acclaimed CDs and have an active YouTube channel with 165,000 followers.
At AMGuSS Choro das 3 will perform in concert and give workshops on Brazilian styles of mandolin and guitar.

Catherine Hawkes - mandola, guitar, orchestra conductor, chamber music coaching
Catherine is a Professor of Music at Roger Williams University, where she established and until recently directed the Instrumental Ensemble. She currently teaches music history, theory, and guitar classes for Eucation majors. Her interest in Medieval music led her to Indiana University's Early Music Institute, where she earned a Doctorate in Music, as well as pursuing studio work in fine arts textiles. She was a producer for IU's Focus record label and wrote several seasons of the Public Radio program
Harmonia.
Catherine was a founder of the early music quartet Melusine and the Smiling Dog Band and has performed extensively in genres ranging from opera to circus to jam band. She and her compositions have appeared on numerous recordings, and she released a CD of her own compositions,
Natural History
, in April 2022. Catherine plays mandola and recorder with Enigmatica.
Ralph Costanza - mandolin, guitar, chamber music coaching
Ralph has been part of the AMGuSS faculty nearly since it began. Originally attending as a student in year 2, his enthusiasm and instructional expertise-- honed from years of teaching public-school music-- along with his charismatic leadership in after-hour jam sessions quickly earned him a promotion to faculty in charge of beginners. Known for his ability to engage players in developing technique and musicianship skills, whether in the 2nd-mandolin section of the orchestra or in newbie chamber music coaching sessions, Ralph takes beginners under his wing to ensure that they experience AMGuSS to the fullest. And he remains the heart and soul of the AMGuSS informal night-time jam sessions, where his broad musical knowledge has lead to many a memorable experience.
Charles Moser - mandolin, guitar, chamber music coaching
Charlie joined the AMGuSS faculty in 2018, transitioning from student-who-knew-too-much to faculty and coach, introducing early-morning "mandolin yoga" sessions for those wanting to add even more playing time to their day.  He performs with Enigmatica, and as a soloist and band member in a variety of ensembles. Charlie started playing the mandolin one particular day in 1975, and has rarely missed a day since. He is sometimes distracted by the classical guitar, the electric bass, or his Fender Telecaster, and occasionally by his career as Charles V. Moser, Musician-at-Law. (BA in Applied Music from Keene State College, JD from UNH School of Law). He is veteran of many commercially unsuccessful but artistically outstanding musical groups, covering styles from classical to cowboy to rock 'n' roll. Early influences include Beethoven, The Tijuana Brass, and the My Fair Lady soundtrack.

Enigmatica Ensemble-in-Residence
Enigmatica
is a New England-based mandolin ensemble directed by Marilynn Mair. Part chamber orchestra and part plucked-string double-quartet, Enigmatica performs a variety of music: Baroque, Brazilian, eclectic contemporary, and Americana music written by group members and friends. The ensemble features instruments of the mandolin family — mandolin, mandola, octave mandola, and mandocello — and 6- and 7-string guitars. Ensemble members come from Massachusetts, Rhode Island, and New Hampshire. Their repertoire includes Baroque music by Bach, Vivaldi, Handel, and Purcell; Brazilian music by Villa-Lobos, Jacob do Bandolim, and Pixinguinha; and 20th-century music by Stravinsky and Shostakovich. Original compositions for mandolin ensemble are rare, but Enigmatica is proud to play new works written for them by American composers Pam Marshall, John Goodin, Robert N. Martel, Catherine Hawkes, Adam Larrabee and Marilynn Mair. Enigmatica has released 3 highly acclaimed recordings, is featured on some of Marilynn's CDs, and most recently recorded Catherine Hawkes' 2022 CD,
Natural History.