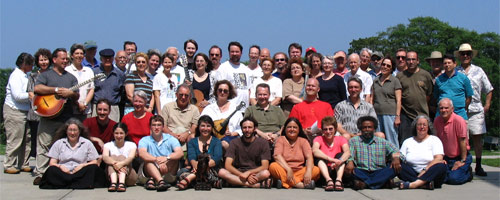 AMGuSS (The American Mandolin & Guitar Summer School) was founded in 1986 to promote the art of ensemble playing for the guitar and mandolin family. The plan is to combine classical study with an exploration of folk and world music, in workshops, chamber ensembles and an all-school plucked-string orchestra. From Baroque ornamentation to Brazilian choro, AMGuSS is dedicated to broadening the musical horizons of its students.
One of the first American summer schools for mandolin & guitar, AMGuSS ran annually the last week in June every summer from 1986 until 2009, when it paused for a few years. It came roaring back in 2017, in response to student requests, and that success reestablished its annual status. With small classes, accomplished faculty, and an emphasis on fun, AMGuSS continues on!
You can register for AMGuSS 2018 by clicking the link at the top of the page. Or contact Fran email hidden; JavaScript is required for information on how to register by mail.
AMGuSS dates are June 25-30, 2018
on the waterfront campus of
Roger Williams University, Bristol, Rhode Island

 The All-School orchestra,
ready for its final concert in 2017.
"At AMGuSS
we create
musical
experiences
together."
Why not join us for the 2018 session where you will…

Play in the American Mandolin & Guitar Orchestra,
to develop your musicianship and interpretation skills through rehearsals, sectionals, and a concert performance.
Learn about decision-making in a small ensemble,
in groups created and coached daily by our faculty.
Or bring your own ensemble for our coaching.
Broaden your musical horizons and knowledge,
through informative workshops, inspiring concerts, and informal jam sessions.
Tuition is $425, with a discount
to $375 for early registration (until January 31st).
On-campus room & board options are available.
More information and online payment will be available here soon.

Registration is limited to 35 players
on mandolin-family instruments & guitar.
For more information now:
Email: Fran Rivkin, Registrar, at

email hidden; JavaScript is required