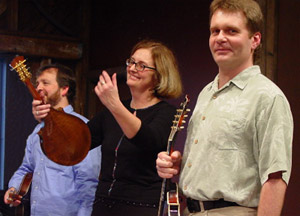 Musicians
Marilynn Mair (mandolin, mandola)
Paulo Sá (bandolim)
Radim Zenkl (mandolin, flutes)
Formed in 2006
Recordings: featured on Leave Something Unexplained
Currently available for concerts and workshops with an ample travel budget. They offer concerts, workshops, and residencies with topics ranging from Brazilian and Czech music to a variety of mandolin techniques, bluegrass, Baroque and Brazilian ornamentation, ensemble coaching, or a traditional masterclass format.
For more information email email hidden; JavaScript is required
This international supertrio electrifies with the depth, power, and beauty of their musical collaboration. Beyond presenting the original solos that highlight their individual voices on the mandolin, the three fuse their styles seamlessly to create extraordinary duos and trios that transcended the crowd's expectations and expand the musical parameters of the project in unexpected directions. The musical mission of "Mandolin World Summit" continues as a trio dedicated to exploring the unique intersection of three lives devoted to mandolin.
Radim Zenkl, born in Czechoslovakia and now living in
California, is a performer who fuses two different cultures in his musical sound. While living in the Czech Rebublic he discovered American bluegrass from records smuggled into his country. This initiated a spark that led to an eclectic array of musical styles, and resulted in his defection to the USA in 1989. Since then he has achieved phenomenal success in his adopted country, winning the U. S. National Mandolin Championship in 1992, and performing and recording with Jerry Garcia, David Grisman, Bela Fleck, the Preservation Hall Jazz Band, Dan Hicks, and others. Radim tours extensively as a mandolin soloist, and with the quartet, "A Festival of Four." He has released five solo CDs, and was recently featured on David Grisman's "Tone Poets." Radim plays many instruments of the mandolin family, as well as a variety of ethnic flutes. He has a long history of inventing new techniques and approaches to the mandolin in his quest to expand its sonic possibilities. Radim brings Eastern European melodies, bluegrass chops, original tunes, and musical curiosity to the trio, wrapped in a rock-&-roll intensity that lights up the stage.
Paulo Sá, from Rio de Janeiro, Brazil devoted himself to mandolin
performance and research from an early age, specializing in "Choro," a virtuoso style of Brazilian instrumental music. He has performed with Hermeto Pascoal, Paulo Moura, Carlos Malta, Rildo Hora, Joel Nascimento, Wagner Tiso, and other legends of Brazilian music, and toured Europe and North and South America as a soloist, and with the Orquestra de Cordas Brasileiras, Camerata Brasil, and the Rio Trio. His recordings have been released in the United States and Europe, as well as Brazil, where they have won numerous awards. Paulo has a Doctorate from the Federal University of Rio de Janeiro, and in addition to performing, teaches at the Villa-Lobos Institute of Music and the Brazilian Conservatory of Music. He plays bandolim, the Brazilian mandolin, and has a background in Baroque music performance as well as Brazilian styles, that add a level of complexity to his musical arrangements. Paulo brings a natural feel for ensemble, a sophisticated sense of syncopation, and intricate polyphony to the trio, wrapped in a Copacabana cool that brings a smile to everyone who hears him play.
Marilynn Mair of the United States studied mandolin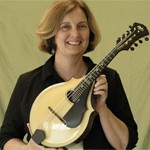 here and in Europe. She is best known as a classical mandolinist, but is often found playing Brazilian choro, Piazzolla tangos, or her own original tunes. She has toured Europe, North America, the Far East, and Brazil, earning her the title, "First Lady of the Mandolin."   Marilynn owns a strong determination not to let stylistic boundaries keep musicians apart, the idea that originally sparked the Mandolin World Summit fusion.
"The playing was fluid and harmonious… a meeting of people who like to play music and have this harmony between them. That's exactly what the standing-room-only crowd seemed to appreciate when Sá, Zenkl, and Mair took the stage together, their hands rapidly strumming and fingering the strings of their instruments and their eyes meeting during improvisational solos… 'Unbelievable!' one person said in the crowd after one of the numbers. 'Hot stuff!' " – Richard Salit, The Providence Journal.