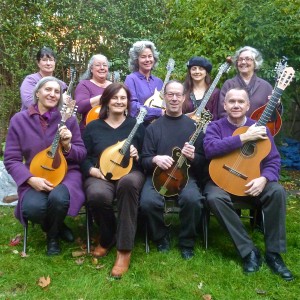 Recordings:
Natural History (2022) The music of Catherine Hawkes
Enigmatica 3 (2014),
Americana, with original music by the group.
The Blue House (2009), Pixinguinha, Stravinsky, Goodin, Carr Boyd, etc.
Enigmatica (2004), Villa-Lobos, Bach, Ware, etc.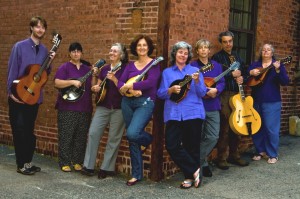 Enigmatica began playing together in 2000, and are currently available for performances and recordings. Their music ranges from Baroque to Brazilian to contemporary to folk-inspired Americana.
For information email: email hidden; JavaScript is required
Enigmatica is a New England-based mandolin ensemble directed by Marilynn Mair. Part chamber orchestra and part plucked-string double-quartet, Enigmatica performs a variety of music: Baroque, Brazilian, eclectic contemporary, and Americana music written by group members and friends. The ensemble features instruments of the mandolin family — mandolin, mandola, octave mandola, and mandocello — and 6- and 7-string guitars. Ensemble members come from Massachusetts, Rhode Island, and New Hampshire. Their repertoire includes Baroque music by Bach, Vivaldi, Handel, and Purcell; Brazilian music by Villa-Lobos, Jacob do Bandolim, and Pixinguinha; 20th-century music by Stravinsky and Shostakovich; and recent music of composers Will Ayton, Jim Dalton, and Radim Zenkl. Original compositions for mandolin ensemble are rare, but Enigmatica is proud to play new works written especially for them by American composers Pam Marshall, John Goodin, Robert N. Martel, Catherine Hawkes, Adam Larrabee and Marilynn Mair.
"The sound of Enigmatica can be described as sparkling, effervescent, fluid, precise, and joyous. The clarity of line they achieve is breathtaking, completely the equal of any string quartet or chamber ensemble playing today." – Mandolin Magazine
"Enigmatica wove an illuminated musical tapestry, rich in sound and vision." – Rick Massie, East Bay Window

Director/Mandolin: Marilynn Mair

Professor Emeritus of Music at Roger Williams University, Marilynn has performed in over 1000 concerts all over the world, released two dozen solo/ensemble recordings and published 4 books on mandolin technique. For the past decade she has been a part-time resident of Rio de Janeiro, balancing the ability to hold her own with saxophones at outdoor jam sessions with performing classical concerts at museums and palaces. She founded and has directed Enigmatica since 2000, and has enjoyed the group's tendency toward compositional independence in its teen-age years. You will find her more traditional accomplishment information here.
Mandolin: Charlie Moser

Charlie started playing the mandolin one particular day in 1975, and has rarely missed a day since. He is sometimes distracted by the classical guitar, the electric bass, or his Fender Telecaster, and occasionally by his career as Charles V. Moser, Musician-at-Law. (BA in Applied Music from Keene State College, JD from UNH School of Law). He is veteran of many commercially unsuccessful but artistically outstanding musical groups, covering styles from classical to cowboy to rock 'n' roll.  Early influences include Beethoven, The Tijuana Brass, and the My Fair Lady soundtrack. Charlie's prescription for success is one perfect Manhattan for every two hours of mandolin practice, every day as needed.
Mandolin: Fran Rivkin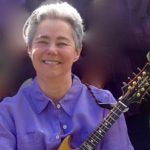 Fran's head has been in business and her heart has been in music (and sports) for a long time. At 15 years old, she became a life-long mandolin lover taking lessons with Jethro Burns (of Homer & Jethro), where they played tunes and talked about the Cubs. After co-founding and running an Internet company, Domania Inc., she was Associate VP for Road Scholar North America Programs. Recently, she's run a consulting firm to work with non-profit and small companies, and (most recently) the Boston Red Sox. During this time, she's also been a continuing education student at the New England Conservatory to learn what it means to be a musician, and sat in on bluegrass jams to figure out how to do it fast!
Mandolin: Jacqueline Russom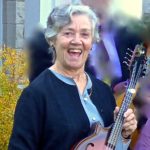 Jacque fell in love with the mandolin as a teenager when she saw one in a shop window in Genoa. Her parents immediately bought it, hoping to nurture a musical talent, but it was many years before Jacque learned to play the instrument she carried a torch for. The lost Italian mandolin was replaced by a 1950s Gibson which has now been succeeded by a Phoenix, and Jacque has played with Enigmatica since its founding. A former linguistic software developer, she now works freelance for the Oxford English Dictionary, reading Middle English texts to find earliest occurrences of words. She literally wrote, or rather revised, the definition for "mandolin" in the OED to add the characteristic feature of paired strings.
Mandola/Recorder: Catherine Hawkes

Catherine is Associate Professor of Music at Roger Williams University, where she established and directs the Instrumental Ensemble. Her interest in Medieval music led her to Indiana University's Early Music Institute, where she earned a Doctorate in Music, as well as pursuing studio work in fine arts textiles. She was a producer for IU's Focus record label and wrote several seasons of the Public Radio program Harmonia. Catherine was a founder of the early music quartet Melusine and the Smiling Dog Band and has performed extensively in genres ranging from opera to circus to jam band. She and her compositions have appeared on numerous recordings, most recently, Enigmatica 3.
Mandola: Gayle Raposa

Gayle grew up with mandolin music. Her dad played in a popular local band at weekly Portuguese "Chamarita" dances and weddings. She preferred  piano and violin though, and in college singing in the chorus let her share her talent. In her thirty-five years of teaching third grade, she sang throughout the day. When students asked if there was a song for everything she answered, "If there isn't one, I'll make one up!" She started taking mandolin lessons to get her Dad to start playing again, and after a couple of years, her teacher suggested she switch to mandola. Voila! – she had found her voice in the mandolin family! Gayle has played with Enigmatica almost since its beginning and feels like she's found her musical family.
Octave Mandolin: Lisa Abbatomarco

Lisa is and always will be an artist in search of redefinition. She moved from piano to guitar, and then harpsichord, before arriving at mandolin. Mandolin goes back in Lisa's family to her great-grandmother, who played one "to meet boys" until her father smashed it against a telephone pole. Lisa eventually took to the octave mandolin, and now plays a tamboritza cleverly disguised as a mandola or mandocello depending on your theater seat. In other incarnations, she has been known to vocalize in experimental sound ensembles, jam with other nutbutters, and over-personify as cowgirl, Rambling Red, with the Blackstone River Riders. She also plays percussion accessories in The Extraordinary Rendition Band.
Guitar: Bob Martel

Bob began playing the guitar at the age of seven and turned his attention to the classical guitar some twenty years later. He has performed in concert with mandolin orchestras and chamber ensembles in the U.S., Canada and Europe. His compositions have been recorded and performed in North and South America, Europe and Australia; the most recent additions being performances in Slovenia and Croatia. In June 2017, he will retire from a thirty-seven-year career as a public school music teacher. Grateful to have survived relatively intact, he's now looking forward to daily practice and composition sessions, books, herb gardening, cooking, genealogy, hockey games, meditation, volunteer work, and the occasional martini.
 7-string Guitar: Paul Dressel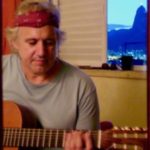 Paul is a garage-band guitarist, living-room musicologist who, after hearing a Brasilian sete corde played up close, knew he had to learn some new tricks at an age when such things are more easily forgotten. His performing career includes a decade with the Americana rock band Shacklehands playing his Telecaster and lap steel guitar. He volunteered for Enigmatica's long-neck section when guitarist-composer extraordinaire Bob Martel had to miss some concerts due to injury. Paul added some chords and low notes to help the band out, all the while learning to read those pesky dots and lines. The right place, the right time and a glimpse of fortune's smile. He's stayed on, covering guitar and mandocello lines.
Former members of Enigmatica, featured on recordings and in past concerts, include:
Isabel Eccles, Joanne Taddei – mandolin
Eric Christensen – mandola, guitar
Adam Larrabee, Bob Asprinio, Robert Paul Sullivan – mandocello
Enigmatica's self-titled debut CD (2004), The Blue House (2009), and Enigmatica 3 (2014) have garnered praise throughout the mandolin world for the group's versatile and colorful sound.  The group also appears on Nadando em Luz, Leave Something Unexplained and North Star Record's "New England Yuletide". Group members perform widely with other plucked string ensembles, most notably, The American Mandolin & Guitar Orchestra.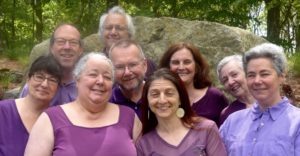 Enigmatica has presented its unique blend of chamber music in concert series throughout New England, including performances at the New England Conservatory, the SummerKeys Concert Series, Blithewold Mansion, the Providence Athenaeum, Roger Williams University, and Providence's celebrated WaterFire. The group has been featured artists at the annual convention of the Classical Mandolin Society of America in Philadelphia, and the Cape Cod Festival of Mandolins.
Download: Enigmatica press photo (2.2MB JPG)