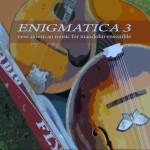 Enigmatica celebrates its 15th year of innovative, highly acclaimed music-making with the release of its third CD, New American Music for Mandolin Ensemble. Most of these pieces are recorded here for the first time and many were written for Enigmatica. They reflect a mixture of folk, classical, Celtic, and Brazilian influences that are beautiful, accessible, and timeless. This CD embodies an American spirit and, recorded live-in-studio, showcases Enigmatica's musicianship and mastery. Under the artistic direction of Marilynn Mair, one of the world's leading mandolinists, Enigmatica continues to flourish. Hear the results for yourself.
Listen: Sand Pond Suite: Red Ball Jets
Track List
The Rocky Road to Dublin – Jim Dalton     3:13
 After Irene – Robert N. Martel        3:41
 Sonatine a 4 – Will Ayton      6:10
Sand Pond Suite – Catherine Hawkes ( 4– 8)
 Radio Flyer       3:08
Up in a Swing     3:56
 Fairy Ring         3:54
 Fireflies        3:12
 Red Ball Jets   2:06
Ayton's Farewell – Marilynn Mair       3:26
Sky-Colored Lake – Robert N. Martel     2:31
The Jamie Suite – Evelyn Tiffany-Castiglioni   5:40
Enrolado – Marilynn Mair    3:50
Revival – Radim Zenkl      3:34
Mitten Waltz – Catherine Hawkes     2:48..