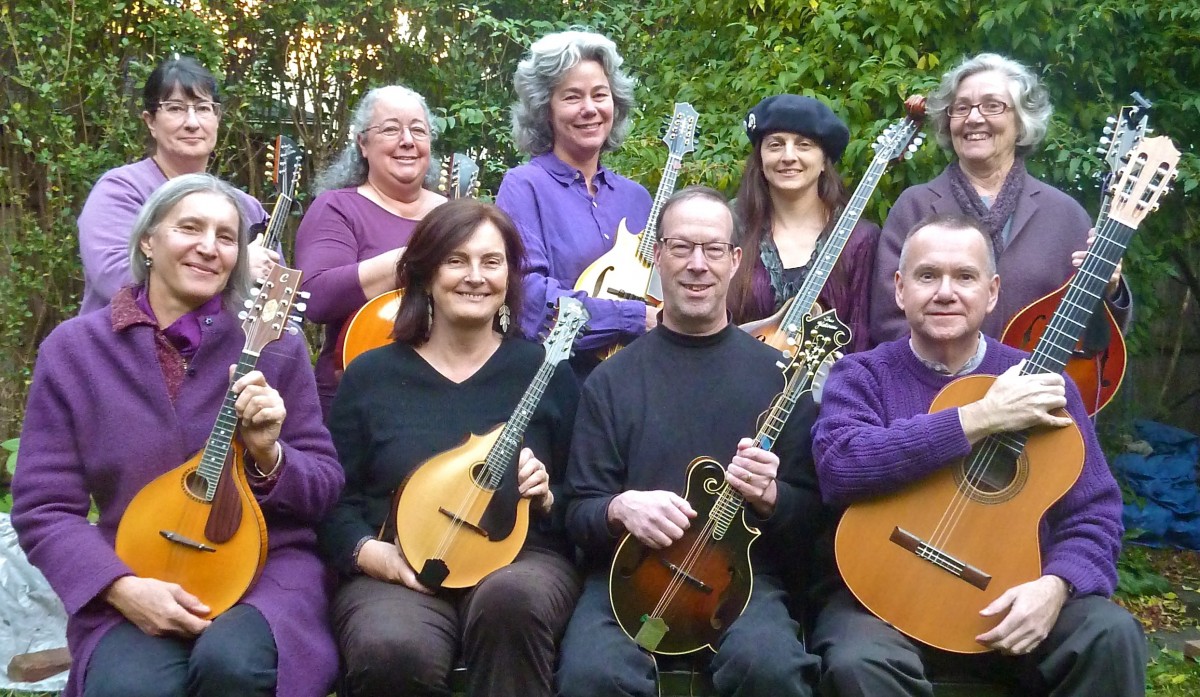 Musicians:
Marilynn Mair (Director, mandolin)
Charles Moser, Fran Rivkin, Jacque Russom,
Joanne Taddei, Isabel Eccles,(mandolin)
Catherine Hawkes, Gayle Raposa (mandola)
Lisa Abbatomarco (octave mandola)
Robert N. Martel (guitar)
Robert Paul Sullivan (mandocello)
Recordings: The Blue House, Enigmatica
Formed in 2000
Currently available for performances and recordings
For concert information email email hidden; JavaScript is required
Enigmatica is a Providence-based mandolin ensemble directed by Marilynn Mair. Part chamber orchestra and part plucked-string double-quartet, Enigmatica performs music of the Baroque, Brazil, and eclectic contemporary works. The group features instruments of the mandolin family — mandolin, mandola, octave mandola, and mandocello — and classical guitar. Their repertoire includes Baroque music by Bach, Vivaldi, Handel, and Purcell; Brazilian music by Villa-Lobos, Jacob do Bandolim, and Pixinguinha; 20th-century music by Stravinsky and Shostakovich; and recent music of New England composers Will Ayton, Jim Dalton, and Robert N. Martel. Original compositions for mandolin ensemble are rare, but Enigmatica is proud to play new works written especially for them by American composers Pam Marshall, John Goodin, and Adam Larrabee.
Enigmatica's self-titled debut CD (2004) and The Blue House (2009), have garnered praise throughout the mandolin world for the group's versatile and colorful sound.  The group also appears on Nadando em Luz, Leave Something Unexplained and North Star Record's "New England Yuletide". Group members perform widely with other plucked string ensembles, most notably, The American Mandolin & Guitar Orchestra.
Enigmatica has presented its unique blend of chamber music in concert series throughout New England, including performances at the New England Conservatory, the SummerKeys Concert Series, Blithewold Mansion, the Providence Athenaeum, Roger Williams University, and Providence's celebrated WaterFire. The group has been featured artists at the annual convention of the Classical Mandolin Society of America in Philadelphia, and the Cape Cod Festival of Mandolins.
Press photo of Enigmatica can be downloaded here
"The sound of Enigmatica can be described as sparkling, effervescent, fluid, precise, and joyous. The clarity of line they achieve is breathtaking, completely the equal of any string quartet or chamber ensemble playing today." – Mandolin Magazine
"Enigmatica wove an illuminated musical tapestry, rich in sound and vision." – Rick Massie, East Bay Window