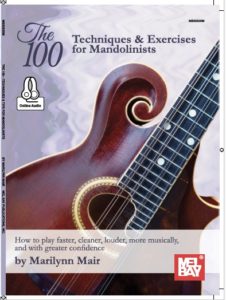 Mel Bay has published their 3rd book by Marilynn!
The 100 – Techniques & Exercises for Mandolinists is a compendium of thought-provoking discoveries and theories developed over the course of her career. This is Marilynn's most personal method book to date, and gives a look into the way professional musicians practice, work out repertoire, and develop the interpretive skills to bring their music to life.
Order one from Mel Bay! Or if you're coming to AMGuSS in a couple of week, Marilynn will have a supply available there.